Material Hoists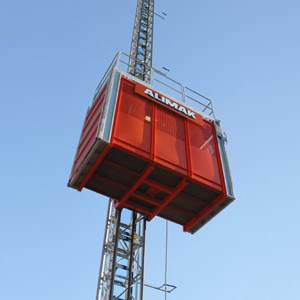 Alimak Scando 650 is the world´s most popular construction hoist concept, and your best choice for efficient construction logistics. The modular system offers flexibility, efficiency, safety, productivity, low energy consumption and low cost of ownership, making it the ultimate choice for both construction and rental companies.
Intelligent control
Alimak Scando 650 comes with a modern microprocessorbased control system, ALC-II. It has group control for up to six hoist cars, which can solve many site logistic problems at large construction sites. For example, the system reduces waiting times by storing all calls from the landings and sending the hoist car that is logistically nearest to a landing to pick up cargo or passengers.
ALC-II also features fault diagnostics and is furthermore the base of our advanced online remote monitoring system A3. The system collects and displays a wide variety of operational information, to minimize down time.
Site Requirements and Brochure