Crane Accessories
Crane Forks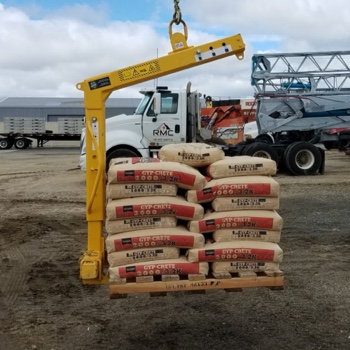 Crane forks are especially useful with tower cranes. They make handling palletized or stacked products a breeze. Our forks are self levelling and have height and width adjustments to fit all packaged goods. A Lot of times, product is delivered to the job site on pallets or packaged and the use of the forks gets the product where it needs to be on the project.
Pallet Cages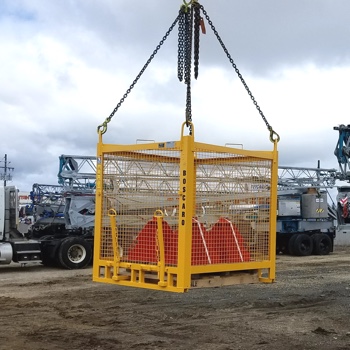 Pallet cages are the safest and often, most efficient way to move pallets of material around the job site. The cage will fit over a pallet and the cage protects against anything falling off the pallet. This is especially helpful to masons, bricklayers or anyone working around pallets that have compromised integrity. Often times these can be used to move material to upper levels or from upper level workers.
Self Dumping Bucket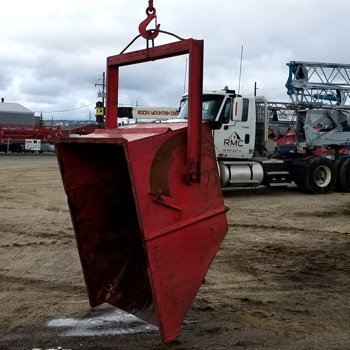 These are found on almost every job site. Take rock, or other material where it needs to be on the jobsite and the crane can dump it in place. This is perfect for job site material moving, landscaping materials or just about anything you can dream of!
BoxHaul Self Dumping Bins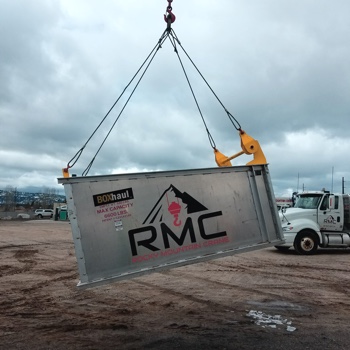 This is our most popular accessory. It is most often used as a trash bin, where it is filled at an upper level and the crane operator can then move it to a dumpster and dump it without any help or assistance. It's well thought out design is built so that the inside dimensions are 4' x 8'. You can move pallets of material, 4x8 sheets of lumber or sheetrock, and anything else you can come up with. The box is aluminum and lightweight, but can handle up to 2500 lbs, or 3 cubic yards.